Welcome to the second edition of our "Meet the Team serie" to discover who's behind our WAVE by AGC solutions.
Today, allow us to introduce Cynthia van Vroenhoven, our dedicated Business Developer for #WAVETHRU and #WAVETRAP!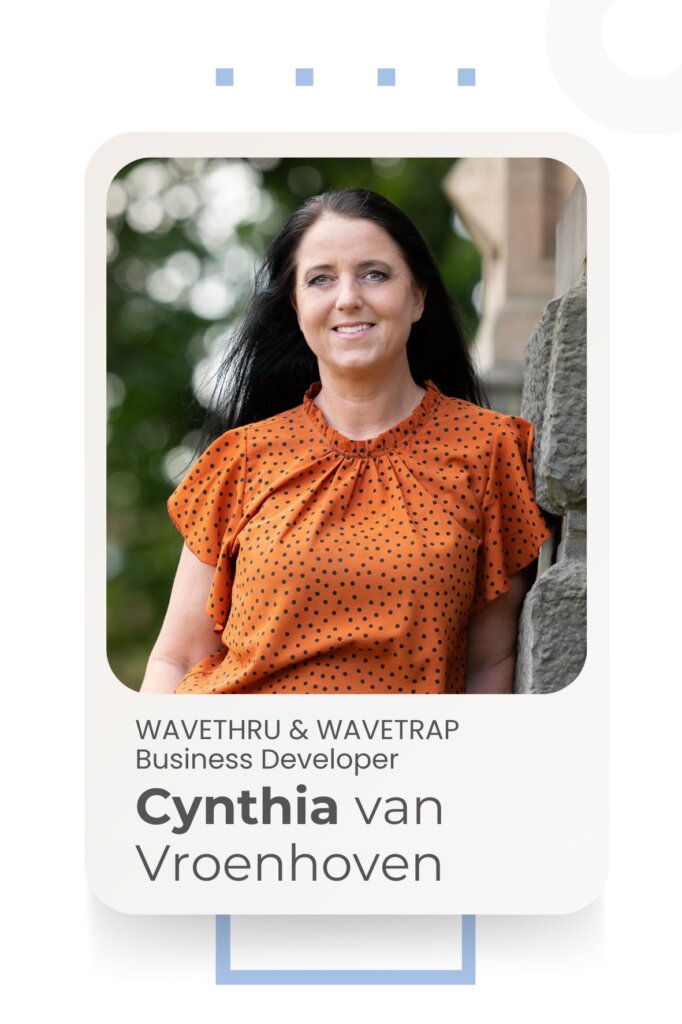 What is your role at WAVE by AGC, and what are your key responsibilities?
Hello, I'm Cynthia, serving as the dedicated Business Developer for WAVETHRU and WAVETRAP within the Dutch market. It brings me great pride to introduce the innovative solutions crafted by our skilled and ingenious technical team at the Technovation Center in Gosselies, Belgium, to the Dutch market.
I am privileged to identify promising markets where our advanced connectivity solutions can truly make a substantial impact. Following this, I strategize on which stakeholders to engage with, aiming to ensure the comprehensive understanding and widespread acceptance of the solutions among all involved parties in a given project. That can be a bit of a search sometimes, influenced by the specific market dynamics and project scale. It often involves collaborating with entities such as building owners, ICT, and Facility Management.
Whether it involves optimizing connectivity within your building or vice versa, it's essential to protect anything that requires shielding from radio waves.
My focus spans from optimizing indoor connectivity to safeguarding against radio wave interference, depending on the precise requirements. Upon identifying fresh market opportunities, my efforts revolve around capturing the interest of potential clients for our exceptional solutions. I aim to demonstrate a completely novel approach to addressing connectivity challenges within buildings, focusing on addressing the root cause rather than introducing additional technical components that emit radiation. This approach allows us to harness what is already securely available externally rather than artificially amplifying it.
What's the most exciting aspect of your job, and how does it align with your passions?
The most thrilling part of my job is the opportunity to significantly contribute to a prosperous digital future. It's incredibly rewarding to do so in a seamless and user-friendly manner through innovative solutions that address fundamental issues. The AGC principle, which encapsulates "Your dreams, Our challenge," deeply resonates with me. Interacting with a diverse range of individuals – from colleagues to clients – and gaining the organization's confidence in your abilities is truly fulfilling. It's more than just performing well; it's about making a meaningful impact as an individual. Both clients and colleagues recognize and appreciate the value you bring to the table.
Share a fun or interesting fact about yourself outside of work – a hobby, talent, or unique experience.
During my personal time, I thoroughly enjoy embarking on road trips with my two teenage boys, exploring various countries' finest amusement parks, with a special focus on their exhilarating roller coasters! The sense of liberation that comes with driving, crafting itineraries, contemplating ideal destinations, and envisioning what I'd like my boys to witness and encounter – whether it's a museum or the marvels of nature – is truly invigorating. The simple joy of being on the road with them, journeying while music plays in the background, pausing for coffee breaks or to admire breathtaking vistas – all of this encapsulates authentic freedom to me.
What do you find most rewarding about helping clients overcome connectivity challenges?
At times, our team's efforts feel like pure magic! We manage to bring immense joy and tranquility to our customers, all by offering a solution that's inherently straightforward: we essentially "open up" the windows, allowing connectivity to flow precisely where it's needed. In our daily lives, the world is increasingly reliant on robust connectivity. There are moments when it even becomes a critical matter, such as when an elderly resident in a care facility urgently needs to reach a nurse through their personal alarm system.
Numerous innovations are continually emerging to enhance and digitize communication between individuals, both in professional and personal settings. However, the real comfort lies in its functionality. That's where we come in – we ensure it functions seamlessly in a simple, passive, affordable and sustainable way. And we get the gratitude of our customers as a reward!
At WAVE by AGC, we take immense pride in reshaping the connectivity industry with innovative and sustainable solutions like WAVETRAP and WAVETHRU.
For more information please feel free to contact us.
Stay tuned as we unveil more fascinating team features every month!