Indoor Coverage: A Growing Challenge
Indoor coverage refers to all systems that enable data exchange and phone connectivity within a building. In this article, we primarily focus on solutions for achieving high-quality indoor 2G/3G/4G/5G phone coverage. Currently, through our conducted audits, we observe that indoor coverage is becoming less natural in new buildings. This is paradoxical because the number of connected applications is increasing.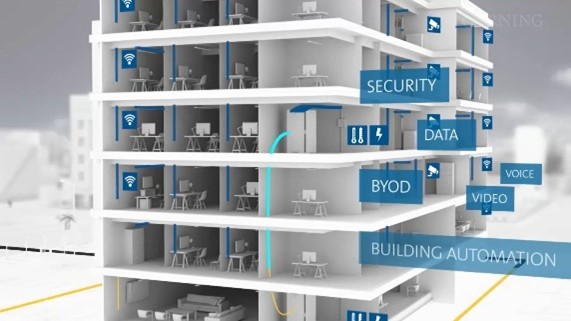 Many occupants complain about poor network coverage, resulting in slow or faulty applications or the inability to make external calls. We can specifically mention coworking spaces facing departures due to a lack of multi-operator coverage, healthcare facilities dealing with faulty 4G patient monitoring systems due to uneven coverage, and retail businesses experiencing problems with mobile payments and remote inventory management due to bandwidth limitations.
There is clearly a growing demand for uniform, high-quality indoor connectivity with substantial capacity in various sectors. Tenants are increasingly considering this aspect when choosing their building.
Is Mobile Coverage an Important Issue?
If we look at customer needs, telecom solutions, and construction methods, we observe that this problem will become more challenging in the future.
Regarding users:
It's a general fact that 20 years ago, we only made phone calls, but now we can perform an impressive range of tasks with our smartphones (e.g., ehealth, ebanking, smarthome). The same applies to industries such as healthcare and transportation. This trend requires new workspaces and buildings to support these activities. There is a growing need for quality coverage within the building to facilitate massive data exchange and communication, often with low latency.
In terms of telecommunications, three key trends are noticeable:
Mobile networks, both Wi-Fi and cellular (4G, 5G), mainly operate in lower frequencies and are becoming saturated. To increase capacity, higher frequencies are required, but this comes at the cost of reduced coverage and increased sensitivity to building materials.
To protect user health, electromagnetic field (EMF) standards are becoming stricter, resulting in lower network power, which is not favorable for indoor connectivity.
Relying solely on Wi-Fi will not be sufficient. All technologies, including Wi-Fi and cellular networks, must be utilized to meet the demand. Each technology has its advantages and disadvantages. Wi-Fi is accessible but may lack quality and security, while cellular networks offer high quality and enhanced security but are more complex to implement.

Regarding buildings, we can highlight three key trends:
Buildings are becoming more energy-efficient.
Energy-efficient materials often contain metal, which significantly attenuates radio signals.
Indoor connectivity is rarely considered in building design. Solutions for providing connectivity are designated and installed after the building is closed, making them often expensive.
There is a trend towards increasingly multifunctional buildings, requiring multi-operator mobile coverage.
Regarding the glass used in buildings, it is not exempt from this trend. Since the 2000s, to achieve high energy performance, double and triple glazing often contain metallic layers that completely block radio waves but contribute to excellent energy performance.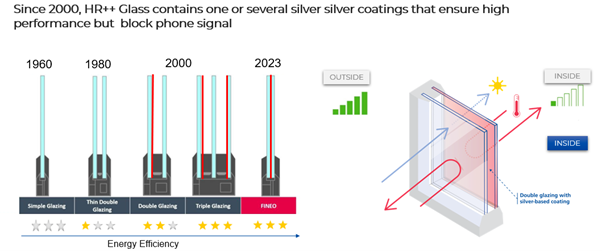 In conclusion, the combination of all these factors demonstrates that indoor connectivity is becoming increasingly important and will be a crucial factor to consider in the buildings of the future, which are playing a more significant role in the choice of a building.
What Are the Best Practices for Improving Connectivity?
As connectivity experts, we propose a series of best practices to enhance connectivity in buildings:
Start Thinking About Connectivity from the Beginning: Consider connectivity from the initial stages of building design or renovation.
Conduct Coverage Audits During Different Construction Phases: Evaluate the final coverage in the building and take necessary measures.
Choose Materials Compatible with Radio Coverage: Select materials for the building envelope, such as glass and separating walls, that are compatible with radio coverage. For example, consider using WAVETHRU glass.
Analyze Future Occupants' Needs: Understand the connectivity requirements of future occupants in terms of quality, data quantity, latency, and the number of operators needed.
Place High-Connectivity Functions Appropriately: During interior layout planning, ensure that functions requiring high connectivity are located in suitable areas. For instance, place a "phone corner" where multi-operator connectivity is strong.
Implement Active Solutions When Necessary: Apply active solutions as needed to enhance connectivity.

Traditional Solutions for Improving Coverage
When natural indoor coverage is insufficient within a building, several traditional solutions are typically employed, which we outline below:

Wi-Fi: In this scenario, Wi-Fi is installed without any improvements to cellular networks. Voice over Wi-Fi (VoWiFi) is relied upon for calls and data exchange. This solution has its limitations because VoWiFi only works on certain phones, and call quality often depends on the number of users on the network. Additionally, visitors from outside often cannot access Wi-Fi for security reasons. This solution should be considered as a last resort.
Repeater: This scenario involves placing a repeater, a system that captures the outdoor signal from base stations and amplifies it within the building. This solution often works for only one operator and requires wiring the entire building to place antennas. Budget-wise, it can cost between €40,000 and €80,000. The system needs regular maintenance and upgrades as technologies evolve. Additionally, antenna placement can impact user health. In this scenario, no additional network capacity is provided; capacity remains limited by the surrounding GSM networks.
Distributed Antenna System (DAS): This scenario is similar to the repeater. Antennas are placed throughout the building to bring in the signal. Unlike the repeater, the system is directly connected to the operator's network via fiber optic cables. In this case, real additional capacity is provided both to the network and within the building, typically for buildings with many occupants (>5,000). This solution is highly effective but generally costly and often tied to a single operator. Budget-wise, it can range from €200,000 to several million euros. Like the repeater, this solution needs regular updates, maintenance, and also affects user health.
WAVETHRU: A Game Changer
At WAVE by AGC, we have developed an alternative solution to these active solutions, allowing for natural cellular network coverage simply by allowing phone signals from the outside to pass through the glass. As mentioned earlier, high-performance glass blocks radio signals. WAVETHRU is a treatment that makes glass transparent to radio waves using a laser process. The solution is applied on-site once the building is closed on a portion of the glass, enabling natural coverage within the building. It's important to note that this treatment has no impact on the physical properties of the glass.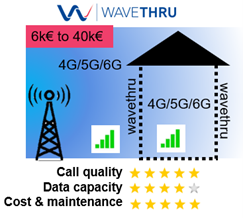 This solution offers several advantages:
Passive
Quick to implement
Multi-operator
No maintenance required
Future-proof: When the operator updates its network with new technologies, these will automatically be available within the building.
Health benefits: This solution reduces user exposure to radiation by a factor of four, as phones require less power to connect to the external network.
Combinable with active solutions to reduce overall costs
Deployment of the Solution and Performance Guarantee
As mentioned earlier, this solution is passive and does not provide additional capacity like DAS. To ensure good coverage within the building, WAVE always conducts a series of audits to verify the strength and quality of the external network before deploying the WAVETHRU solution. The solution is typically deployed in three stages:
Stage 1: An audit is conducted to assess the quality of the external network and operational feasibility.
Stage 2: Glass treatment is applied.
Stage 3: A post-treatment audit is conducted to verify network coverage. Additional glass surfaces may be treated if necessary.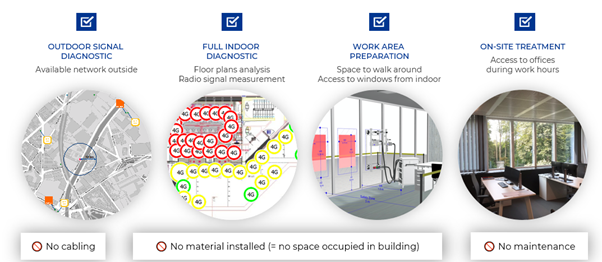 Who We Are?
AGC is a manufacturer of flat glass for the building and automotive industries. In 2018, we created the startup WAVE dedicated to analyzing connectivity in buildings and marketing solutions to improve it. WAVE conducts 200 coverage audits in buildings every year and has developed solutions such as transparent glass for mobile waves, antennas for 5G networks, and bulletproof glass.
In Conclusion
Indoor mobile coverage is an aspect that will become increasingly critical in the future and must be considered from the building's design phase to avoid unpleasant surprises during commissioning. WAVE, with its expertise in the building and telecommunications sectors, can assist you at various stages to bring your building into the world of smart buildings:
Advise you throughout the construction phase on building choices.
Conduct coverage audits or provide simplified audit tools to assist in building planning.
Implement passive glass solutions (WAVETHRU) to ensure good natural phone coverage.
Certify your building for connectivity.
Contact us for more information