Head of Wave, Bernard Monville, answers 5 questions on the latest innovation in radiation shielding glass: WAVETRAP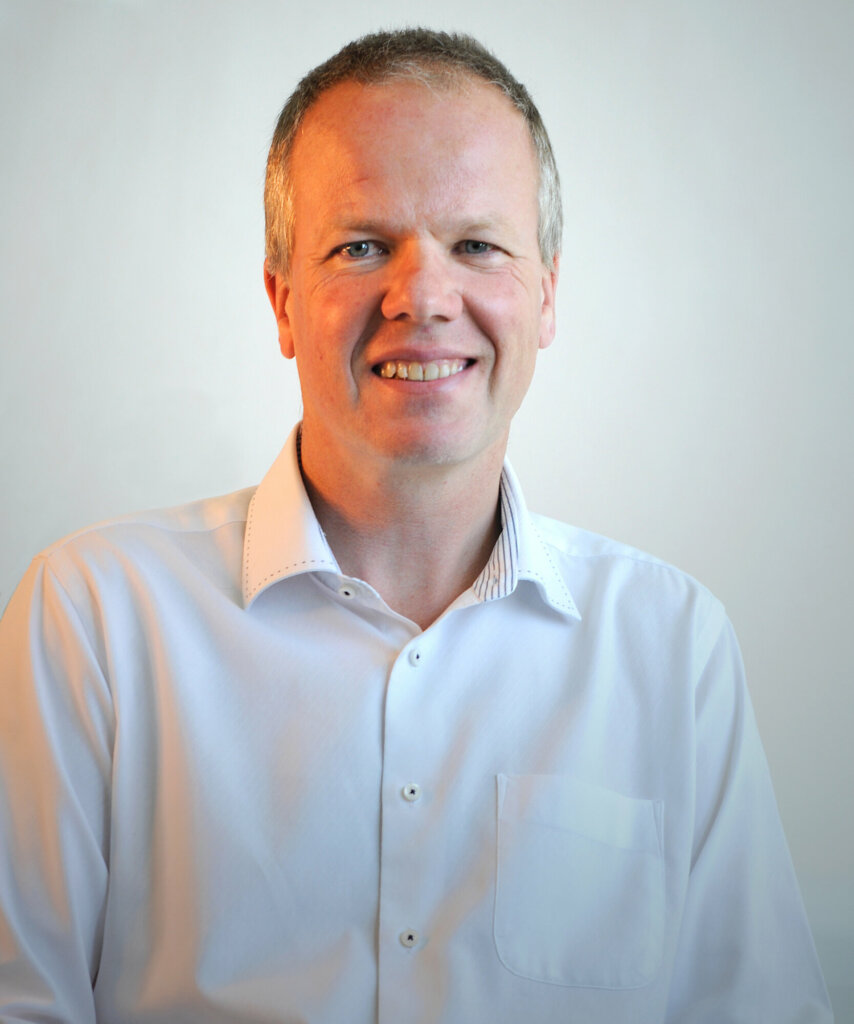 Over the years, we've all become more and more connected via screens. Research shows that we spend up to 50% of our hours awake in front of screens. At the office, at home, wherever we go – we're surrounded by radiation and waves. Health and Social Care (HSC) professionals everywhere alert our society to the effects of this elevated connectivity and increased interconnection on our professional and personal lives. So, how do we deal with this inside out? And how do we let this impact us outside in? And can we do both at the same time?
People have grown weary of enclosing Faraday bunker situations that make them feel trapped. Above all, they want an open and transparent view on the world that still makes them feel safe, secure, and sane. Glass seems to be the answer, but your run-of-the-mill glass panels won't cut it.
AGC has a lifelong tradition and reputation for developing and creating all types of glass. When the R&D department developed the Wave solution line, they focused on market-changing qualities that might be just what the manager (and healthcare professional) ordered for the cybersecurity, residential, and facilities markets.
Here to shed some light on the why and how of WAVETRAP, Head of Wave by AGC, Bernard Monville, voices the answers to some key questions.
1. What is WAVETRAP and how did it come to be?
WAVETRAP is the result of an extended R&D exercise in connectivity at the AGC Europe facilities. The AGC glass expertise spans over four decades in automotive glass and integrated antennas; and few years ago, we encountered a network coverage and communication disruption in AGC's newly constructed corporate headquarters. As it turns out, we realized that the newly installed glass façade was both attenuating and disrupting the signal waves.
We wouldn't be glass experts if we did not seize the moment to explore the connectivity issues and opportunities associated with glass in buildings. At first, we developed glass that either facilitates the passage of waves or enhances wave transmission through integrated antennas. This made most sense, considering the rising significance of connectivity in our society, including the advent of 5G, WiFi networks, connected buildings, and Internet of Things (IoT) devices.
However, the increasing density of this type of connectivity has equally raised concerns about the potential impact on overall health on the one hand, more particularly for individuals that suffer from Electromagnetic Hypersensitivity (EHS), and on critical security precautions on the other hand, such as safeguarding networks against cyber threats, protecting data in an environment marked by heightened competitiveness and geopolitical tensions, and ensuring compliance with relevant regulations such as NIS II.
So, as we were rolling out a glass solution that facilitates connectivity, we also developed a type that blocks it entirely. That is how WAVETRAP came to be, a groundbreaking and specialised glass designed to reduce electromagnetic wave exposure from the surrounding environment.
The Wave by AGC Connectivity Solution line consists of three products:
GLASS ANTENNA – this solution activates wave amplification within a building through the integration of relay systems within glass elements.
WAVETHRU – This glass type lets radio signals pass through the waves and ensures optimised indoor coverage. To establish this, we grid the coating, tailored to the measured settings as directed by the customer.
WAVETRAP – This glass panel solution blocks waves entirely, as the customer demands, tailored to any settings. Fit for both indoor and outdoor purposes, this glass minimises impact on aesthetics and is perfectly compatible with other glass features such as anti-burglary, flame-retarding features, UV-blocking,….
The Wave solution line is part of the overall AGC glass group. The company vision is to "Look Beyond" and that means we go beyond the glass. We're on a daily mission to create unique materials and solutions that improve the everyday life of people worldwide on a daily basis. That's the spirit that generated the Wave solution line, and WAVETRAP specifically. We know glass better than anyone and what it can (and should) do for various markets.
With the Wave line, you can decide what connectivity you want to let through, what you want to block, and what you want to optimise how.
2. Is that the "why" of WAVETRAP?
A more conscious market approach to how we handle the ever-increasing connectivity is indeed an accelerator for us to promote the benefits of WAVETRAP to numerous markets. We wanted to supply the market with a solution that would allow them to determine how much this heightened connectivity impacts them, and not the other way around. Wherever we are, we should be setting and defining the barriers, not undergo them.
In business, heightened connectivity calls for better security in both the office and home office environments. Proximity attacks via the employee WIFI network are one of the biggest threats in cybersecurity attacks. By using Radiation shielding glass you cannot only keep the view, but also blocks out unwanted visitors trying to tap into your network outside in. The beauty is, that WAVETRAP can be fully tailored to your connectivity frequency and settings and stop these breaches from happening entirely.
In the personal atmosphere, there is a growing health concern for electromagnetic sensitive people, who suffer from a condition most often referred to as Electromagnetic hypersensitivity (EHS). Obviously, these people want to protect themselves against increasing allergies due to outdoor pollution, such as Electromagnetic (EM) smog. Radiation shielding glass will protect what matters most to you in life, without compromising anyone's view.
For overall facilities management and professionals overseeing Electromagnetic compatibility, the WAVETRAP glass prevents EM interference. Crucial in the healthcare market for instance, where machine operators cannot afford any interference between machine rooms, causing data distortion or pollution.
Whether you want to secure any professional space inside and out, have allergies, crave digital silence, or want to safeguard your overall sanity, WAVETRAP has got you covered.
3. What could be common misconceptions, and can you counter them?
Innovation always benefits from a healthy amount of critical thinking. We've tested this solution extensively and have talked to many market stakeholders. From these conversations we learned most people asked following questions:
Will the view through the glass be distorted?
Not at all, WAVETRAP is the most discrete shielding glass ever. Our goal was to strengthen the virtual firewall with a physical, yet invisible, firewall. No one will even see that WAVETRAP is installed. You keep the view, we block the rest.
Will this impact the stability of the glass?
No, quite the contrary, WAVETRAP enables you to protect what matters, however you want that protection to happen for people, buildings, data, sensitive information, or networks. That's why
WAVETRAP is designed so it can still be combined with other glass qualities people want to embed. It enforces the quality settings you want and can be strengthened with others.
Will this take ages to get delivered and installed?
No, the regular AGC delivery and installation expertise applies.
Is this for new buildings only?
Preferably, but it can be retrofitted. That means replacing the glass and making sure WAVETRAP fits the right window frames. We have a solution to any situation.
How does this fit the bigger picture?
Together with our customers, we want to go beyond the glass. The glass is part of an entire shielding solution and we make the glass fit the vision of the architect, engineer, and customer. That's why we always try to look at the bigger picture in collaboration with our customer, and advise them on the best way to create an entirely shielded zone, factoring in other elements like walls, the floor, and the ceiling. WAVETRAP as a selective glass shielding solution is not a standalone solution, it is an integrated one.
How do you technically validate the qualities of WAVETRAP?
To validate the technical excellence of this product, AGC developed the Electromagnetic ShieId Index (ESI) – a electromagnetic shielding benchmark standard that's been created by the AGC R&D team based on measurements done in university laboratories.
There is no overarching market standard that serves as the benchmark reference. But still you need to be held accountable for the performance of your product. That is why we created this ESI standard.
That's how adamant we are to get our clients the best possible solution out there.
4. What is the market feedback so far?
It looks very promising. We launched WAVETRAP at the right moment in time and are currently implementing the first WAVETRAP glass panels at sites and homes everywhere. No one has to take my word for it, so I asked the team to share the feedback from the people we're working with, and this is what they were sent:
For cybersecurity:
Proximity attacks are on the rise and could potentially cost you big time. WAVETRAP allows us to factor in an extra, physical cybersecurity barrier that blocks off attacks, without compromising the view. The advanced shielding layers in this glass are tailored at an unparalleled level.
For EHS mindful surroundings:
People want environments that are as secure as fortresses but still feel as homely as possible. WAVETRAP is the perfect glass solution to ward off outdoor pollution, without compromising the view. Invisible Faraday protection for the digital minimalists and those who suffer from sensory overload.
For EMC professional settings:
WAVETRAP is a transparent way for any facilities professional to keep in what they don't want to get out and vice versa. The shielding layers are selectively made-to-fit for our facility's properties so zero electromagnetic interference and full compatibility are ensured.
These customer statements prove that we are onto something here. Our team perfected the technical excellence of this product to be compatible with different glass qualities, and we are ready to tackle the markets by storm.
BONUS REMARK – Is this not a solution paradox – boost and block? Can these co-exist?
It may seem a paradox that we offer two solutions that either enhance connectivity or ward it off entirely. What is to be done for those who do not want to choose?
What if you want a great mobile connection in the house, but no influence from power pylons?
What if your employee network needs to be 100% stable inside the building, but you don't want anyone to be able to access it outside in?
What if your operating systems need to be operate independently in some areas, but you still want optimal connectivity in others?
Luckily, you don't have to choose. Both solutions can be combined. You can incorporate WAVETRAP in the structural work of any building to block connectivity outside in. And use WAVETHRU in indoor frames where applicable.
You no longer have to choose if you want to be safe or secure or sane. You can be it all.
The WAVETRAP solution is currently rolled out in projects all over Europe.
The team will be visiting key events to evangelise the WAVETRAP qualities.
Make sure to follow the LinkedIn company page to stay up-to-date on their whereabouts: https://www.linkedin.com/company/wave-by-agc/
Are you visiting the PROVADA 2023 show in Amsterdam (NL) June 13-15? Make sure to plan in a chat with our team – they'll be on site.