In an increasingly connected world, the need for seamless and reliable indoor communication has never been more critical. Understanding the differences between various technologies – WiFi, Cellular Networks (4G/5G), and 5G Private Networks – is essential.
In this article, we explore the interconnection between WiFi, Cellular Networks (4G/5G), and the emerging 5G Private Networks, as well as some applications and use cases. Ultimately, we'll explore how radio-friendly glazing can revolutionize indoor connectivity, letting Cellular Networks enter inside the building in a seamless way. Say goodbye to office connectivity problems, interrupted business calls and an inconsistent signal.
The Coexistence of Different Technologies and Their Trends
WiFi and Cellular Networks are often seen as rivals and competitive technologies, but they are better described as complementary partners in the quest for connectivity. Let's first understand the landscape of these technologies and their trends.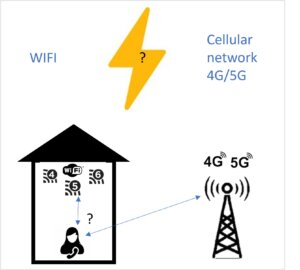 The Frequency Challenge
Both WiFi and Cellular Networks are continuously evolving to meet the ever-increasing demand for data. This evolution often takes the form of higher frequencies, which is where the challenge arises.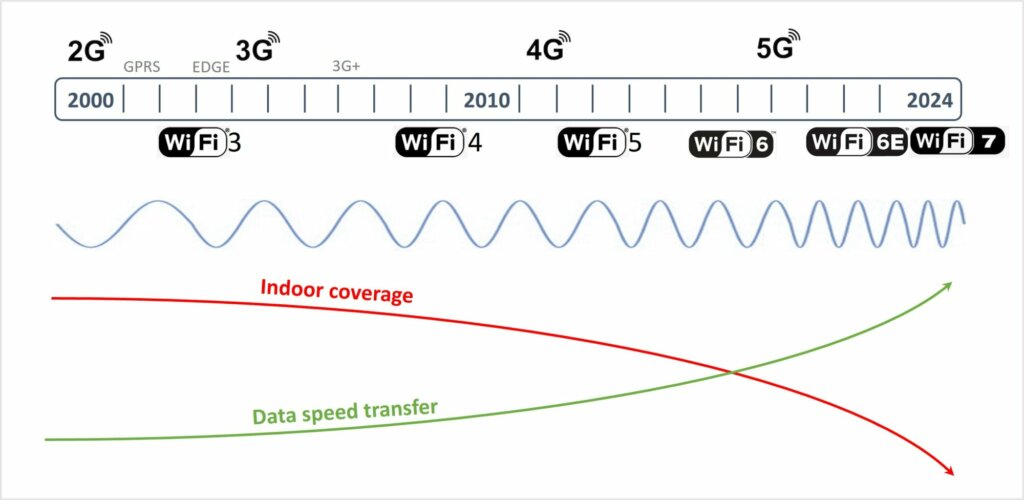 The shift to higher frequencies allows for more data capacity and the management of more users but comes at a cost. Higher frequencies struggle to penetrate obstacles like façade, windows or dividing walls or leading to reduced indoor coverage.
 WiFi technology has enjoyed several iterations, from 2.4 GHz (Gigahertz) to 5 GHz, and now even 6 GHz with WiFi 6E.
 In the cellular world, 4G networks operate around 700 MHz to 2.5 GHz frequencies, and 5G goes even higher, including millimeter-wave frequencies up to 100 GHz. While these higher frequencies enable blazing-fast data speeds and low latency, they face the same challenge as WiFi – difficulty penetrating building materials.
Balancing the Equation
Despite the challenges posed by higher frequencies, WiFi and Cellular Networks are not adversaries. Instead, they are two pieces of a larger puzzle, each with its own role to play.
 WiFi offers in-building connectivity, making it an essential component for homes, offices, and public spaces.
 Cellular Networks, on the other hand, provide the backbone for outdoor and mobile communication.
WiFi: The Universal Companion
WiFi's primary use is local wireless networking. Businesses often employ WiFi for guest access and basic office connectivity. It's efficient for indoor local networking, such as in your home, office, or a coffee shop but can struggle with larger deployments due to limited coverage and interference.
Indeed, WiFi operates in an unlicensed spectrum and with limited power. Consequently, it delivers a limited range inside building and often fails to penetrate dense materials, causing dead zones. Its quality can depend on the number of users.

WiFi is typically used to connect non critical applications. It is does not require a sim card. The quality of the communication depends on the number of users which is not controlled, unlike a Cellular Network. WiFi can be used by anybody and hence is more sensitive to breach.
Small Offices and Homes: WiFi is perfect for smaller spaces with limited connectivity needs.
Guest Access in Public Spaces: cafes, hotels, and airports often use WiFi for visitor access.
From a status point of view, mainly WiFi6 is currently being rolled out. It is worth mentioning that the norm was granted in 2021 and is still being rolled out.
Cellular Networks: The Reliable and Secure Giants
Cellular Networks, including 4G and 5G, provide extensive coverage across large areas, both indoors and outdoors. Cellular Networks use more power than WiFi and operates in a licensed spectrum. Consequently, they are ideal for the provision of broader outdoor coverage with a high level of quality.
In fact, to operate in a licensed spectrum limits the interference and ensures a high degree of reliability and security. The number of users is controlled. The future trend is towards 5G. It promises even faster data rates and lower latency, revolutionizing mobile data services. Cellular Networks deliver a high degree of quality that enable to the remote management of assets in a harbour, or the remote monitoring of Ehealth patients.
Typical applications for Cellular Networks (4G/5G) include:
General Mobile Communication: Cellular Networks are the go-to choice for mobile calls and internet access in most situations.
IoT Applications: for devices requiring connectivity in various locations and environments.
Remote management of assets.
Smart manufacturing.
Smart Estate.
Currently all technologies 2G/3G/4G and 5G coexist on the territory. Former technologies 2G/3G are mainly dedicated to support analogic voice are currently being shut down to free the sprectrum for the full deployment of 4G and 5G.
Regarding the roll out of 5G we can see, it is being undertaken in 2 phases. First 5G Deployment will be done at 3.5GHz for capacity and 700MHz for coverage. The second phase in 3G 2100MHz will be replaced by LTE and leave 900MHz for #2G and 3G, the rest of the spectrum will be given to 4G/5G between 1800-2600MHz.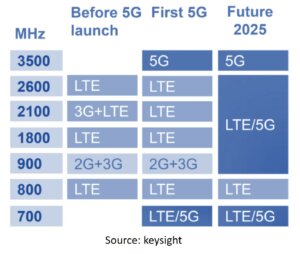 If we look at European countries, we can see that the deployment of 4G and 5G has not been fully achieved yet and is country dependent. It is interesting to notice that:
 Currently 5G non standalone is being deployed, meaning that it is the 4G signal that triggers 5G when high data transfer is needed. Later fully standalone 5G will work in full standalone but it is not yet the case
 Looking at 5G deployment, we can see that it is mainly the 5G coverage band which is deployed. This means we can 'see" the 5G logo on our mobile phone but we don't have the associated service level.
It is expected that several years are still needed to see the full roll-out of 5G standalone in Europe. Probably 5G NSA will be deployed where it is the most valuable for the capacity that it brings, ie. in city centers and dense areas.
5G Private Networks: Tailored for Specific Needs
5G private networks are designed for specific use cases, such as Industry 4.0, IoT, healthcare, and smart buildings. These networks offer dedicated, high-capacity, low-latency connectivity, perfect for mission-critical applications and IoT devices.
5G private networks are a sort of mini mobile networks deployed at the company level. They enable users to benefit from 5G specifications (low latency, reliable data transfer, high data transfer, robustness and security). They are often rolled out to quickly achieve high performance.
5G public networks are taking some time to be rolled out.

Typical applications:
 Smart Factories: ensuring efficient, low-latency connectivity for industrial automation and IoT devices.
 Healthcare: supporting remote surgery, telemedicine, and monitoring devices.
 Smart Buildings: ensuring connectivity for building automation, security systems, and critical infrastructure.
Among some examples we can cite are:
 Airbus factory which is rolling out 5G to monitor the aircraft construction.
 Actatel submarine which is using a network to monitor factory processes.
WAVETHRU The Game-Changing Role of Radio-Friendly Glazing
As we have seen both WiFi and Cellular Networks are important to absorb the increasing need of digitalization and enable fast, reliable transfer of data.
Currently most buildings behave like a Faraday cage due to the usage of metallic deposition in windows and walls that ensures a high degree of energetical performance. The façade with increased usage of frequency becomes more and more of a challenge for the roll out of a 4G and 5G Cellular Network.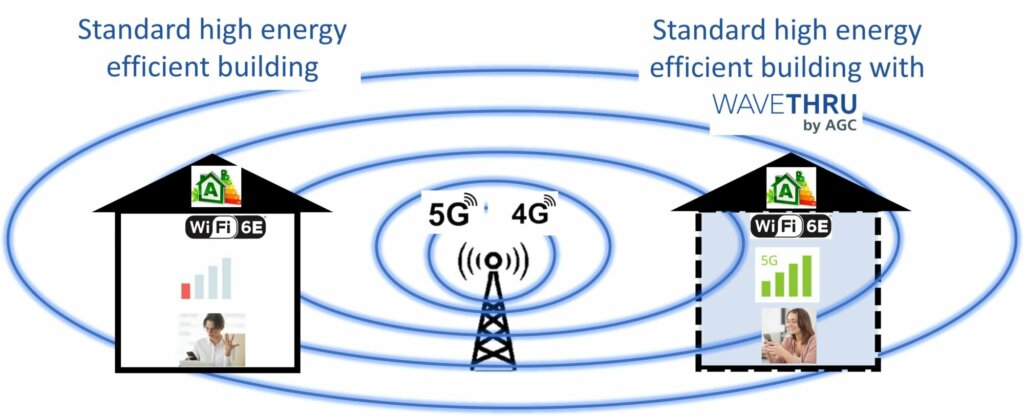 At AGC, we have developed WAVETHRU radio-friendly glazing a revolutionary solution for improving indoor Cellular Network coverage. By integrating this innovative technology into your building's infrastructure, you can easily bridge the gap between indoor spaces and outdoor Cellular Networks.
There is no longer limited connectivity in modern buildings or loss of connectivity in confined spaces.
There is:
  Enhanced Coverage: Radio-friendly glazing allows 4G/5G signals to pass through, eliminating dead zones and ensuring that users enjoy reliable connectivity throughout the building.
  Seamless Transition: With radio-friendly glazing, users can transition seamlessly between outdoor and indoor networks without interruption, ensuring a consistent and high-quality experience.
  Cost-Effective: By improving indoor Cellular Network coverage, you reduce the reliance on WiFi and costly repeaters, ultimately saving you money in the long run.
  Security and Privacy: Radio-friendly glazing preserves the security and privacy of your network using cellular, making it an excellent choice for businesses, healthcare facilities, and government institutions.
Conclusion
In an era where uninterrupted connectivity is a necessity, it is crucial to navigate the complexities of WiFi, Cellular Networks, and 5G Private Networks effectively. Each technology has its strengths and limitations, making it vital to choose the right solution for your specific needs.
WAVETHRU Radio-friendly glass technology for better connectivity, with its capacity to optimize mobile office network coverage seamlessly, is a game-changer. It eliminates the challenges posed by building materials and dead zones, avoiding bad networks at work and ensuring that users experience reliable and high-quality connectivity. This innovative solution is an investment in a more connected and efficient future, enhancing productivity, communication, and user experience in any indoor space.