WAVE by AGC sets its sights on clearer and simpler representation of electromagnetic shielding
WAVETRAP is committed to looking beyond the glass and we are excited to share how we are putting those words into action with the development of a new potential market standard – the Electromagnetic Shielding Index (ESI).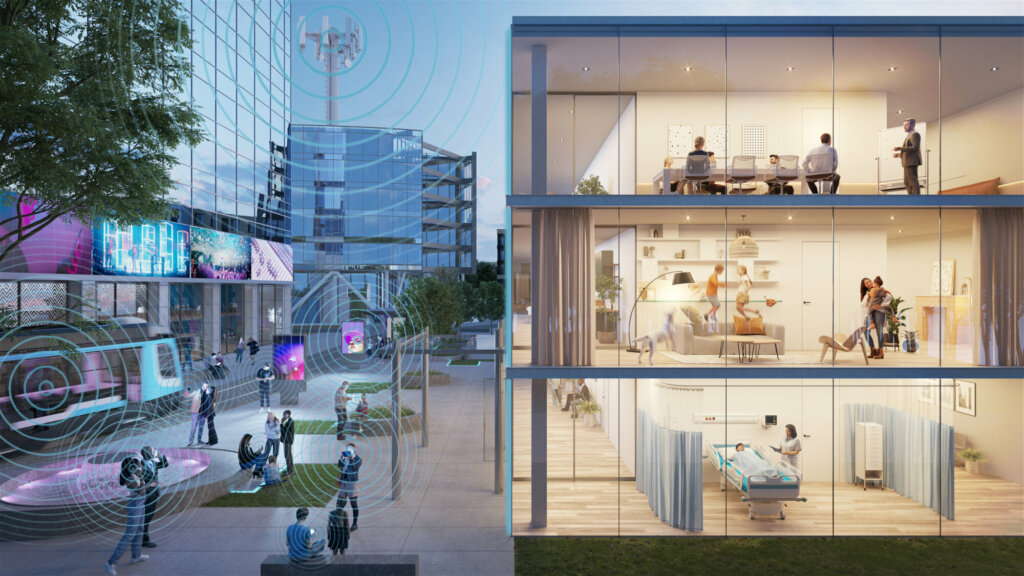 What is AGC's role in Electromagnetic shielding?
The importance of connectivity in our society has been continuously increasing with the advent of technologies like 5G, WiFi networks, connected buildings, and the Internet of Things (IoT). However, In this age of unparalleled connectivity, it is crucial to recognize concerns about the potential impact on overall health on the one hand, more particularly for individuals that suffer from Electromagnetic Hypersensitivity (EHS), and on critical security precautions on the other hand, such as securing network spaces against cyber threats, keeping data safe in an environment marked by heightened competitiveness and geopolitical tensions, and ensuring compliance with relevant regulations such as NIS II. In response, AGC developed a product range of special glazing engineered to protect against to electromagnetic waves from the surrounding environment.
How is the EM shielding performance determined?
The electromagnetic shielding performance of a material or structure is determined through standardized testing procedures, such as IEEE-299. These tests involve subjecting the material or structure to a range of electromagnetic waves in different frequencies and measuring the difference in electric field levels in decibels (dB) between the source side (where the EM waves originate) and the receiving side (where the EM waves is being measured) of the material or structure. The results, referred to as the shielding effectiveness (SE), quantifies how in decibels much a particular material or structure can reduce the amount of the electric field that passes through it. A higher SE value indicates better EM shielding performance.
| | |
| --- | --- |
| DB | Power transmission in % |
| 0 | 100 |
| 2 | 62.80 |
| 5 | 31.60 |
| 10 | 10.00 |
| 15 | 3.13 |
| 20 | 1.00 |
| 25 | 0.31 |
| 30 | 0.10 |
| 35 | 0.03 |
| 40 | 0.01 |
| 45 | 0.003 |
| 50 | 0.001 |
| 55 | 0.0003 |
| 60 | 0.0001 |
Table – Illustration of the relation between the SE value in dB and the percentage of EM power transmitted through the material or the structure. As an example, a material with an SE value of 40 dB reduces the penetrating EM power to only 0.01%.
What is the ESI and what problems have been overcome?
Shielding effectiveness (SE) quantifies the ability of a material or structure to block outgoing waves or attenuate the electromagnetic waves, which is crucial for protecting sensitive equipment, data, and individuals from electromagnetic interference. When planning construction or renovation projects that involve EM shielding, architects and designers traditionally use the SE values to select appropriate materials and construction techniques to achieve the desired level of EM shielding.  However, understanding shielding effectiveness can be quite challenging for non-technical individuals such as architectures and marketers due to its dependence on intricate electromagnetic principles and the fact that it varies significantly across different frequency ranges. It often requires a deep understanding of physics and engineering to grasp how materials or structures perform in shielding against electromagnetic waves effectively.
To alleviate this problem, AGC introduced the Electromagnetic Shielding Index (ESI) as a simpler measure of how effective a building material or assembly is at reducing the transmission of electromagnetic waves through it.  The ESI gives a single number that summarizes the effectiveness of a material or structure in reducing electromagnetic transmission across a range of frequencies. It is derived from the SE measurements taken across multiple frequencies and is post-processed to provide a simplified, single value for easy comparison.
This means that instead of considering how a material performs at each individual frequency, the ESI value condenses this information into one number, allowing for straightforward comparisons between different materials or structures. In this way, it removes the need to depend on specific frequency details and simplifies the assessment of EM shielding, making it easier to evaluate and choose the right materials or constructions. The ESI value is also expressed in decibels (dB).
How has it been designed?
The definition of the ESI was inspired from the definition of the acoustic Rw, a recognized and widely used parameter in the field of acoustics and construction, providing a standardized way to quantify and compare the sound insulation performance of building materials and structures. Similarly, the ESI computes how much the material or the structure outperforms the reference (which was assumed to be an open aperture) in terms of the EM shielding over a frequency range. This is achieved by determining the highest whole number that ensures the average of the sum of the undesirable deviation from the measured SE and that particular whole number across the frequency range does not exceed 2 dB.
To best support the different use cases and potential applications for AGC's EM shielding products, three different frequency ranges were preselected for the computation of the corresponding ESI values. The three frequency ranges are:
Sub-1 GHz range includes the frequencies from 200 to 1000 MHz, and covers UHF broadcasting, TETRA, LoRa, SigFox, and low-band cellular.
Cellular range includes the spectrum assigned for 2G, 3G, 4G, and 5G (sub-6GHz) cellular communications, i.e. 690-960 MHz, 1710-2170 MHz, 2500-2690 MHz, and 3300-4200 MHz.
WLAN range includes the spectrum assigned for wireless LAN in the 2.4 GHz, 5 GHz and 6 GHz ranges.
Why is a standard important?
Developing and adopting an industry standard enables:
Interoperability: With different products and solutions from various manufacturers working together seamlessly, customers can choose from a wide range of options without being tied to a specific vendor, promoting healthy competition and innovation.
Consistency and Quality: Specific requirements and performance criteria for products are defined. Adherence ensures consistency in product quality and performance, giving customers confidence that the shielding glass they are purchasing meets certain minimum requirements.
Regulatory Compliance: Manufacturers can ensure their products comply with regulations, avoiding potential legal issues and market restrictions.
Customer Trust: Companies can demonstrate their commitment to quality and best practices. This fosters trust among customers as they know that the products they are buying have met certain industry-wide benchmarks.
Facilitating Research and Development: A common foundation for research and development efforts is formed. Engineers and scientists can then create new and improved shielding glass solutions.
Simplified Product Selection: With standardized products and testing methodologies, customers can easily compare different offerings and choose the most suitable solution for their specific needs.
Global Reach: Collaborative development and adoption by experts from various countries and regions can help manufacturers reach a broader market and simplify international trade.
Cost Efficiency: Manufacturing processes can be streamlined and the need for custom engineering and testing reduced, leading to cost savings.
How is the market responding?
Interest in a standard that produces an easy-to-read data sheet is high from all sectors. Potential clients are particularly interested in the interpretability possible. The ESI can provide the ability to choose from a different range of options without needing to go into too much detail.
Encouraging cross sector harmonization
We hope our competitors will join us in developing this highly transparent approach that enables non-technical clients to understand and engage with the data. We want to them make sense of the numbers and use that newfound knowledge to make the right decisions.
Ideally, we would like to develop a harmonious approach that empowers ease of understanding and enables confident decision making. This in turn will support the meeting of robust KPIs that will deliver solid return on investment and demonstrate clear effectiveness.
In Conclusion
There is a need for a more user-friendly approach to collating and sharing important technical data. We believe this goes a long way to achieving that and look forward to working with all stakeholders to ensure it meets all required standards. We welcome their feedback and look forward to sharing this essential tool.
Contact us for more information