Glass Antenna solution installed inside the building behind the glazing to enhance the outdoor network densification
The first product to join the WAVEANTENNA adventure was the WAVEATTOCH antenna in 2017. It was designed to address mobile network densification issues in urban landscapes.
As data traffic booms, operators are facing a major challenge in deploying and installing their antennas. Overcrowded rooftops are no longer an option as demand for 5G antennas increases to meet the need for connectivity.
This situation is even more critical in dense urban spaces :
On one hand, the large number of users in dense area causes congestion, reduce signal quality, dropped calls and slow data speeds.
On the other hand, when buildings are tall and closely spaced, there is greater risk of pedestrians experiencing a poor signal while walking down the street..
These considerations must be taken into account by operators. For them, losing subscribers is not an option …
In addition, less and less visual disturbances are allowed to preserve the urban landscape aesthetics, for several reasons :
Highly demanding architectural environments (old city centers for example)
Compliance with city planning regulations
Or because citizens simply want to preserve their city's aesthetic appeal !
With WAVEATTOCH, the idea is to propose a seamlessly integrated glass antenna inside the building, behind the glazing, to enhance the network coverage outside :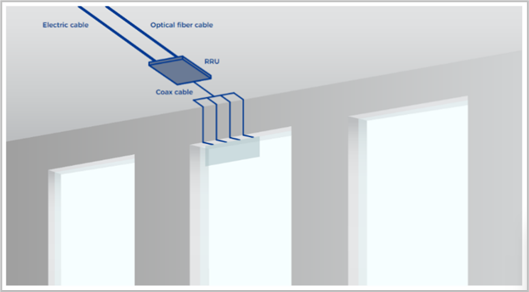 As for each WAVEANTENNA product, a specific antenna is designed to embed the corresponding frequency band (4G/5G in this case). It is then integrated into the glass using a patented Wave process.
Regarding installation, the antenna is connected to the radio unit thanks to coaxial cables. For fixation, Wave has developed a unique and elegant fixation system, to smoothly affix the antenna behind the glazing. This fixation system can be for sure adapted and customized for customers when required.
WAVEATTOCH offers a compelling response to the challenge of network outdoor densification
For city inhabitants WAVEATTOCH is an aesthetically pleasing discreet antenna instead of a highly visible, prominent one. The technology can be integrated seamlessly into urban architecture, making it nearly invisible to the naked eye. This architectural integration ensures a harmoniously blending in with the surroundings.
For operators, there are many benefits :

➔ First, assuming the facades can be used instead of traditional places, it is easier for operators to identify an optimum spot for the glass antenna localization to provide a top-notch signal for their customers.
➔ Second, the risk of congestion and interference is lowered, ensuring that residents and businesses in urban areas enjoy fast and reliable mobile device connectivity.
➔ Third, no more hassles to engage time-consuming actions to get city planning authorizations or worries about architectural limits being reached.
➔ Finally, the installation phase is faster, easier and less risky for operators compared to traditional infrastructures.. This agility is vital for cities that need to expand their connectivity networks swiftly.

And for City authorities, this solution helps them to preserve the beauty of urban landscapes, offering a solution that satisfies both the need for connectivity and the demand for unobtrusive architecture.
While WAVEANTENNA holds for sure an immense promise for urban connectivity, several challenges remain : new business models for the implementation of deployment and installation of the Glass Antenna in third-party areas, operators' awareness, etc.
---
Recently we have promoted our WAVEANTENNA's solution, as range of aesthetic glass antenna solutions designed to enhance the visual experience in urban environment and building interiors while addressing network densification issues.
Even if this definition makes sense to bring consistency as the different WAVEANTENNA products share a common technological ground to address a network densification issue in different connectivity configurations, it was important for Wave to go one step further and explain the capabilities of each product.
This series of articles details for each WAVEANTENNA product (WAVEATTOCH, WAVEANTENNA-WIFI/P5G and WAVEANTENNA-FWA) the particular problem they address, the stakeholders involved, the solution delivered with its key benefits and the remaining challenges.
Stay tuned for the next articles on the other WAVEANTENNA products coming soon.